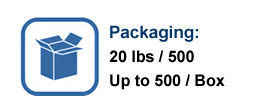 Sell Cards
Item 50-11-001-14C
Size: 8 1/2" x 11"
Stock: 14 pt. C2S White Cover.
Print/Front: Four Color Process with high gloss UV. (See information)
Print/Back: Blank, black ink or four color process. You have the ability to write on this side.
Art: Follow art guidelines and submit art on template.
Proof: PDF or color digital available for an additional charge.
Production: 5 working days or less.
Suggested Retail Pricing *
Effective: March 1, 2017

Quantity

4/0, 4/1-Blk, 4/4

* Prices do not include shipping. (R)

500

$258

1000

$306

1500

$389

2000

$463

2500

$530

3000

$599

5000

$757

7500

$1,084

10000

$1,409