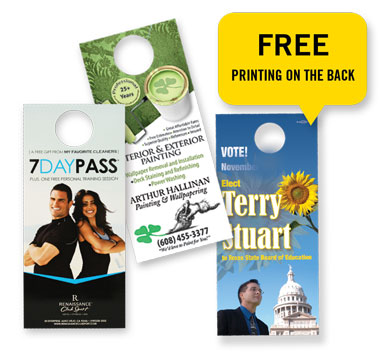 Door Hangers
Item 50-18-003
Helps You Get Your Foot in the Door!

These inexpensive and easy to distribute hangers are perfect for hotels, business promotions, political campaigns, neighborhood distributions, "sorry we missed you" cards, and more.
Size: 4" x 9".
Stock: 14 pt. C2S White Cover.
Print/Front: Four Color Process with high gloss UV. (See information)
Print/Back: Blank, black ink or four color process. You have the ability to write on this side.
Art: Follow art guidelines and submit art on template.
Proof: PDF or color digital proof available for an additional charge.
Production: 5 working days or less.
Suggested Retail Pricing *
Effective: March 1, 2017

Quantity

4/0, 4/1-Blk, 4/4

* Prices do not include shipping. (R)

500

$172

1000

$203

1500

$253

2000

$293

2500

$333

3000

$378

5000

$491

7500

$704

10000

$915