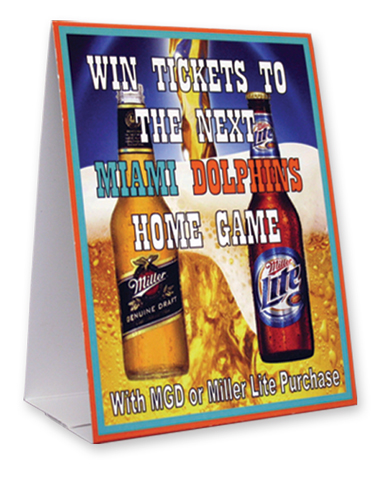 Table Tent
Item 50-54-001
A cost effective way to showcase two offers - one on each side!
Folded Size: 4.25" W x 5.5" H with 1.75" interlocking flaps.
Stock: 14 pt. C2S White Cover.
Print/Outside: Four Color Process with water-resistant, high gloss UV. (See information)
Art: Follow art guidelines and submit art on template.
Proof: PDF or color digital proof available for an additional charge.
Production: 5 working days or less. Ships flat, unfolded. 4.25" x 14.5".
Suggested Retail Pricing *
Effective: March 1, 2017

Quantity

4/0

* Prices do not include shipping. (R)

500

$262

1000

$311

1500

$396

2000

$472

2500

$540

3000

$610

5000

$890

7500

$1,273

10000

$1,656