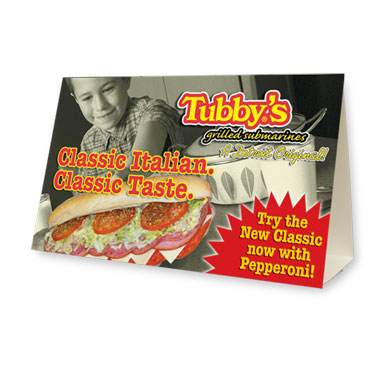 Table Tent
Item 50-54-002
Turn any Tabletop into a Billboard!

An effective advertising tool in the service industry, table tents are a colorful way to display a restaurant's daily special, a lounge's exotic drink or a hotel's breakfast buffet. Don't overlook its potential at reception desks, tradeshows or checkout counters.
Folded Size: 7" W x 4.25" H.
Stock: 14 pt. C2S White Cover.
Print/Outside: Four Color Process with water-resistant, high gloss UV. (See information)
Art: Follow art guidelines and submit art on template.
Proof: PDF or color digital proof available for an additional charge.
Production: 5 working days or less. Ships flat, unfolded. 7" x 12".
Suggested Retail Pricing *
Effective: March 1, 2017

Quantity

4/0

* Prices do not include shipping. (R)

500

$274

1000

$328

1500

$416

2000

$494

2500

$567

3000

$641

5000

$935

7500

$1,349

10000

$1,788