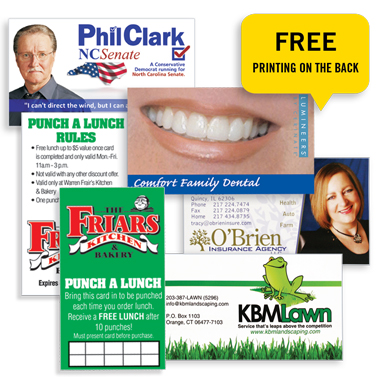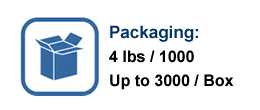 Business Cards (Standard)
Item 50-71-001
Don't Let Your Business Card Get Lost in the Shuffle!

These professional four-color business cards make a statement. A unique business card projects your company's image: fun, professional, distinguished or creative. Don't overlook other uses for these colorful cards such as: coupons, punch cards, event tickets, appointment cards, or sports schedules.
Size: 3 1/2" x 2".
Stock: 14 pt. C2S White Cover.
Minimum Qty: 500
Print/Front: Four Color Process with high gloss UV.
Print/Back: Blank, black ink or four color process. You have the ability to write on this side.
Art: Follow art guidelines and submit art on template.
Proof: PDF or color digital proof available for an additional charge.
Production: 5 working days or less.
Suggested Retail Pricing *
Effective: March 1, 2017

Quantity

4/0, 4/1-Blk, 4/4

* Prices do not include shipping. (R)

500

$31

1000

$39

1500

$48

2000

$55

2500

$64

3000

$72

5000

$112

7500

$168

10000

$223