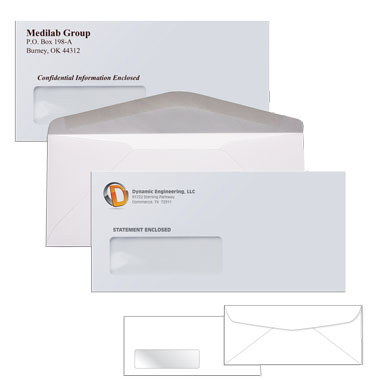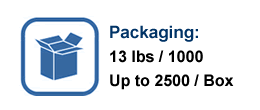 #10 Window Envelope
Item 50-D-65-10W
Use for invoices, statements, paychecks, receipts and more...

Full color envelope printing is an inexpensive method of brand reinforcement. Window in lower left corner allows name and address on the enclosure to show.


Size: #10 WINDOW 4 1/8" x 9 1/2" business envelope with gummed flap. 1 1/8" x 4 1/2" window in lower left.

Stock: 24# White Wove (92 bright).
Security Tint: Order item 50-D-65-10WS
Qty: 500-5000 (Sold in boxes of 500).
Print (front side of envelope only): Limited digital print areas of Four Color Process or black ink. No bleeds or heavy coverage. Copy must remain 1/8" in from all edges and window. Cannot print on window film.
Art: Follow art guidelines and submit art on template.
Proof: PDF available for an additional charge.
Production: 3 working days.
Suggested Retail Pricing *
Effective: March 1, 2017

Quantity

50-D-65-10W
Digital Print

500

$162

1000

$257

1500

$335

2000

$413

2500

$475

3000

$570

4000

$760

5000

$950

Quantity

50-D-65-10WS
Security Tint

* Sold in boxes of 500. Prices do not include shipping. (R)

500

$162

1000

$257

1500

$335

2000

$413

2500

$475

3000

$570

4000

$760

5000

$950