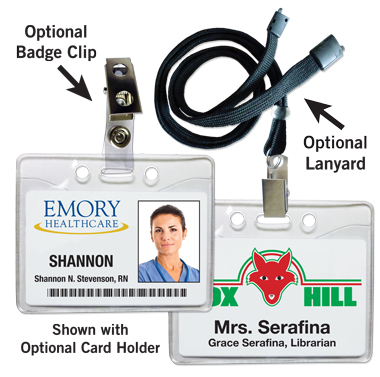 ID Badge (No Slot)
50-D-BDG30-H (Horizontal)
50-D-BDG30-V (Vertical)
Meets the needs of service professionals!

ID Badges can give customers the security of knowing that your representatives are who they say they are. Improves on-site security and protects against unwanted intruders. Add your company logo, name, information and photos to enhance your professional appearance. Used by: repair and maintenance technicians, restaurants, hospitals, non-profits, tradeshows, hotels, civic organizations and more.
Size: 3 3/8" x 2 1/8" with round corners (credit card size CR80). Badge requires clear plastic card holder to attach to clips or lanyards.

Material: 30 mil card.
Options: Clear vinyl card holder. White or Black break-away lanyard with bulldog clip or badge clip, available for an additional charge. A safety break-away lanyard will disconnect under pressure and eliminate the risk of choking
Minimum Qty: 50
Print/Front/Back: Four Color Process digital print. Variable data on one side is included in the price of all badges.
Print Options: Variable data (2nd Side), barcodes, numbering and signature panel available for additional charge. See tabs.
Art: Follow art guidelines and submit art on template.
Proof: PDF available for an additional charge.
Production: 3 working days (without print options).
Suggested Retail Pricing *
Effective: March 1, 2017

Quantity

4/0

4/1-Blk, 4/4

50

$245

$287

100

$273

$316

200

$298

$341

250

$320

$362

500

$378

$421

1000

$593

$637

1500

$780

$825

2000

$941

$986

2500

$1,107

$1,155

Badge Options

Badge Clip

Lanyard w/Clip

Clear Plastic Holder

* Prices do not include shipping. (R)

$ 0.28 each

$ 0.75 each

$ 0.75 each