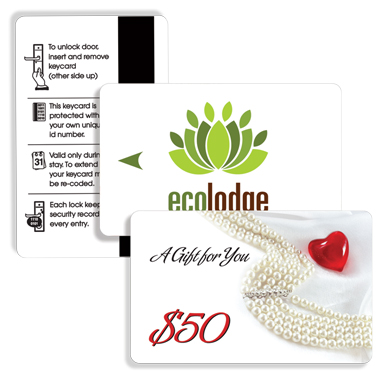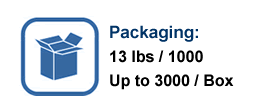 Plastic Magnetic Stripe Cards
50-D-CR80-LO (LoCo)
50-D-CR80-HI (HiCo)
GIFT CARDS: Plastic gift cards are the ultimate way to drive business in the door! A value is placed on the card through magnetic striping or bar coding. Merchants benefit from customer impulse-buying and often apply the card value toward higher priced merchandise. Customers love the convenience.

HOTEL KEY/ACCESS CARDS: Plastic entry key cards provide affordable control over door access for hotels, motels, gyms and other businesses. They also provide plenty of advertising room to place your message directly in their hand!
Size: 3 3/8" x 2 1/8" with round corners (credit card size CR80).
Material: 30 mil composite card with your choice of 1/2" low or high coercivity magnetic stripe. Cards are not encoded unless requested (additional charge). See Magnetic Stripe tab.
Minimum Qty: 100
Print/Front/Back: Four Color Process digital print.
Print Options: Variable data, barcodes, numbering, encoding, signature and scratch-off panels available for an additional charge. See tabs.
Art: Follow art guidelines and submit art on template.
Proof: PDF available for an additional charge.
Production: 3 working days (without print options).
Suggested Retail Pricing *
Effective: March 1, 2015

Quantity

4/0

4/1-Blk, 4/4

* Prices do not include shipping. (R)

100

$199

$241

200

$232

$274

250

$258

$300

500

$324

$366

1000

$497

$541

2000

$782

$825

3000

$1,083

$1,132

5000

$1,626

$1,690