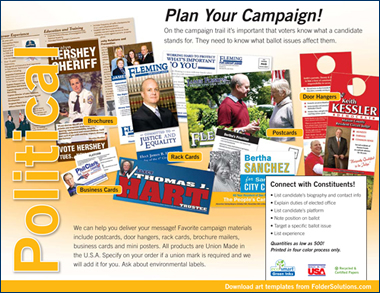 Political
Sell Sheets & Sample Packs
Aim your sales efforts toward politicians and political campaigns. Every candidate and every campaign issue coming up for a vote uses printed literature. Our ColorWorx® Line of quick, affordable four color process printing will get you started.

Popular Products Include:
• Postcards
• Door Hangers
• Rack Cards
• Brochure Mailers
• Mini Posters
• Business Cards

Product Uses:
• List candidate's biography / Contact info
• Explain duties of elected office
• List candidate's platform
• Note position on ballot
• Target a specific ballot issue
• List experience

Union Label: All ColorWorx® products are Union Made in the USA. Simply specify on your purchase order that a union mark is required and we will add it for you.
Planning a sales call? Request our FREE targeted SAMPLE PACK as the first step of your sales plan. You'll find lots of ideas on who to sell to, popular product samples for the industry, potential vertical markets and MORE. Download our non-branded PDF SELL SHEET. Attach your business card and leave it with your customer or you can email it!