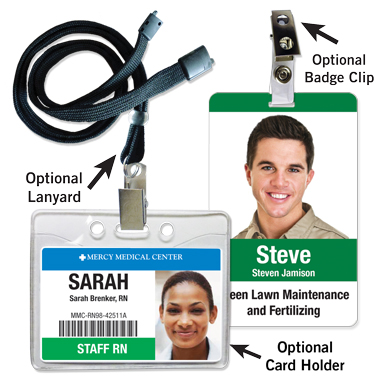 24 Hour Express Badge
50-D-EXPBDG
PURCHASE A SINGLE BADGE! Ships out in 24 hrs!

Perfect for individual replacement badges or for companies with smaller staffing levels. When ordering multiple single badge orders, variable data is included in the cost.
Size: 3 3/8" x 2 1/8" with round corners (credit card size CR80).
Available in horizontal or vertical format; with or without slot at top of card.
Material: 30 mil PVC card.
Options: Clear vinyl card holder. White or Black break-away lanyard with bulldog clip or badge clip, available for an additional charge. A safety break-away lanyard will disconnect under pressure and eliminate the risk of choking
Minimum Qty: 1-49
Print/Front/Back: Four Color Process digital print.
NOTE: Copy will not bleed off edges - prints almost to the edge of badge (a thin white line will appear at outer edges). Keep live copy (type, etc.) 1/8" in from edges.
Print Options: Variable data, barcodes, numbering is INCLUDED in the cost. Sumbit copy in Excel or CSV file. Additional charge for signature panel.
Art: Follow art guidelines and submit art on template.
Proof: PDF available for an additional charge.
Production: 24-hour production schedule (additional time required for signature panel). Based on approved credit and acceptable file output. If a proof is required, production time begins AFTER proof approval. Complete information must be received before NOON Eastern Time (M-F) and your order ships the next day. Service is not provided on weekends or holidays.
Suggested Retail Pricing *
Effective: March 1, 2017

Quantity

4/0

4/1-Blk

Add Slot

Single Badge

$9.44 each

$10.30 each

$ 0.86 each

Badge Options

Badge Clip

Lanyard w/Clip

Clear Plastic Holder*
*Use with Badges without Slot

* Prices do not include shipping. (R)

$ 0.28 each

$ 0.75 each

$ 0.75 each