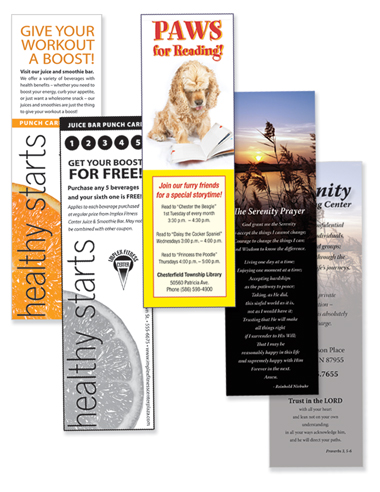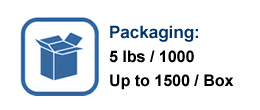 This cost effective product is an excellent way to promote just about anything. Can also be used for punch cards or event tickets.
Size: 2" x 7".
Stock: 14 pt. C2S White Cover.
Print/Front: Four Color Process with high gloss UV. (See information)
Print/Back: Blank, black ink or four color process. You have the ability to write on this side.
Art: Follow art guidelines and submit art on template.
Proof: PDF proof available for an additional charge.
Production: 5 working days or less.
Suggested Retail Pricing *
Effective: March 1, 2017

Quantity

4/0

4/1-Blk

4/4

* Prices do not include shipping. (R)

500

$69

$69

$69

1000

$88

$88

$88

1500

$106

$106

$106

2000

$120

$120

$120

2500

$139

$139

$139

3000

$158

$158

$158

5000

$245

$245

$245

7500

$371

$371

$371

10000

$491

$491

$491

15000

$736

$736

$736

20000

$982

$982

$982

25000

$1,227

$1,227

$1,227

30000

$1,473

$1,473

$1,473

50000

$2,455

$2,455

$2,455