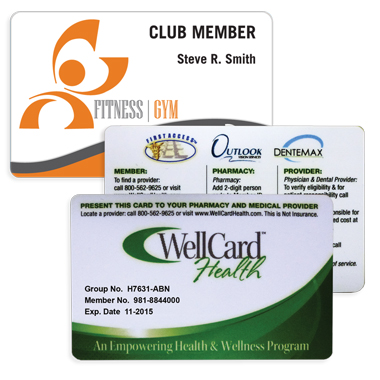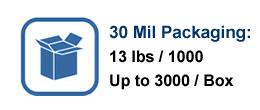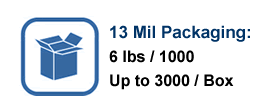 Standard Plastic Card
50-D-CR8030 (30 Mil)
50-D-CR8013 (13 Mil)
Present a better company image!

Our standard plastic cards are the size and shape of a credit card and are available in a variety of thicknesses from a flexible 13 mil to a premium heavyweight 30 mil. Printed in four color process with a high gloss finish, these cards have plenty of room for your information. Popular uses include business and feature cards, memorial cards, calendar cards, membership and identification cards, season passes, fundraiser and loyalty cards, etc.
Size: 3 3/8" x 2 1/8" with round corners (credit card size CR80).
Material: Choice of 13 mil or 30 mil composite card.
Minimum Qty: 50
Print/Front/Back: Four Color Process digital print.
Print Options: Variable data, barcodes, numbering, signature and scratch off panels available for an additional charge. Some options are only available on 30 mil cards. See tabs.
Art: Follow art guidelines and submit art on template.
Proof: PDF available for an additional charge.
Production: 3 working days (without print options).
Suggested Retail Pricing *
Effective: March 1, 2017

Item 50-D-CR8030

Quantity

4/0

4/1-Blk, 4/4

50

$164

$207

100

$193

$236

250

$239

$282

500

$298

$341

1000

$459

$503

2000

$744

$789

3000

$1,025

$1,075

5000

$1,523

$1,589

Item 50-D-CR8013

Quantity

4/0

4/1-Blk, 4/4

* Prices do not include shipping. (R)

50

$136

$179

100

$152

$195

250

$182

$225

500

$225

$268

1000

$345

$389

2000

$557

$602

3000

$773

$823

5000

$1,177

$1,243